Garden Gnomes: More Than Just Whimsical Decorations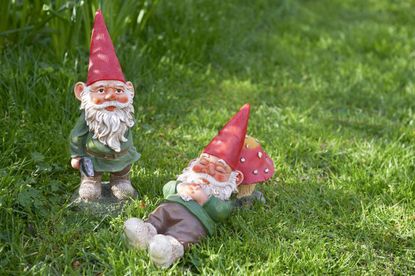 (Image credit: Getty Images)
Garden gnomes, those small, whimsical figurines often found in gardens and homes, have been a popular decorative item for many years. But beyond just being cute and quirky, there are actually several benefits to keeping garden gnomes in your yard.
First and foremost, garden gnomes are great for bringing a touch of personality to your outdoor space. With a wide range of designs, styles, and sizes to choose from, you can easily find a gnome that reflects your individual style and taste. Whether you prefer a classic, traditional look or a more playful, whimsical design, you can create a garden that is truly unique and personalized.
In addition to their aesthetic appeal, garden gnomes are also believed to bring good luck and prosperity to their owners. According to folklore, having a gnome in your garden will bring good luck and blessings to your home, and may even help to ward off negative energy and bad spirits. Whether you believe in these superstitions or not, there's no denying that the positive energy associated with gnomes can bring a smile to your face and brighten up your day.
Another benefit of keeping garden gnomes is that they can help to encourage children to spend more time outdoors. Children love exploring and playing in the yard, and the presence of gnomes can help to make their outdoor experiences even more magical and memorable. By giving them something to discover, investigate, and interact with, gnomes can help to spark their imagination and encourage them to spend more time enjoying nature.
Despite the many benefits of garden gnomes, there is also one major downside to consider: theft. Garden gnomes have become so popular that they have become a target for theft in some areas. This can be a serious issue, especially for those who have invested a significant amount of money in their collection. To prevent theft, it is important to secure your gnomes and to keep them out of plain sight.
In conclusion, garden gnomes offer much more than just a fun and quirky addition to your yard. With the ability to bring personality, good luck, and joy to your outdoor space, as well as encouraging children to spend more time outside, it's no wonder that these little figurines have become such a beloved and enduring staple of garden design. Just be sure to take proper precautions to keep them safe and secure.