BESPOKE | SEPTEMBER 2022 | KRUG
Seeing Sound,
Hearing Krug
Multi-award-winning Japanese composer Ryuichi Sakamoto and Maison Krug team up to create a champagne-inspired musical experience entitled 'Seeing Sound, Hearing Krug'
There has been a musique concrète quality to the legendary Maison Krug, in Reims, since its earliest years, as it was the first in the region to feature a Salon de Musique, and Joseph Krug II, the founder's grandson, travelled the world and recorded the sensations of its myriad sounds in his journal. To this day, the House continues its affinity with music.
At Krug, both music and champagne are acknowledged as universally intuitive languages that open up multisensorial gateways to pleasure and delight.

Krug Champagne and music pairings
To enhance the tasting experience, Krug creates champagne and music pairings for each of its cuvées. Every year, the House invites 'Krug Lover' composers, musicians and immersive artists from all over the world to create unique scores that accentuate certain facets of each champagne. The creatives draw inspiration from the flavours and aromas, as well as the conditions of the harvest year, and translate sensations into rhymes, beats and multidimensional sound experiments. The selected pieces of music and the original aural works are known as 'Krug Echoes'.


Krug x Ryuichi Sakamoto: a unique encounter
The first encounter between the Maison Krug and Japanese composer Ryuichi Sakamoto was towards the end of 2019. After a creative journey of 18 months, and building on more than five decades of experience of translating images and emotions into music, Ryuichi Sakamoto, a multi-award-winning composer who has created and performed soundtracks for some of the most celebrated films in the world, composed and recorded a three-movement symphony, called Suite for Krug in 2008, to illustrate a trio of Krug Champagnes – Krug Clos du Mesnil 2008, Krug 2008, and Krug Grande Cuvée 164ème Édition. Three stories, three sources of inspiration, three visions, three blends born in 2008 at the hands of Krug cellar master Julie Cavil.
Indeed, Krug takes a musical approach to champagne creation that begins with the vines, considering each grape variety a separate instrument and each individual plot a musician. The cellar master is the conductor auditioning musicians from the harvest year, as well as from previous years, to compose the blends of her masterpieces, selecting the grapes that will together perform the most generous expression of Champagne, Krug Grande Cuvée. The similarities between two art forms are striking.
'Leaving behind my preconceptions, it was fascinating to discover the story of [Krug's] creations through the angle of music,' says Sakamoto. 'I learned how important music is to the House. I was immediately impressed by Krug's authentic and humble music approach – the creative passion and the drive to experiment.'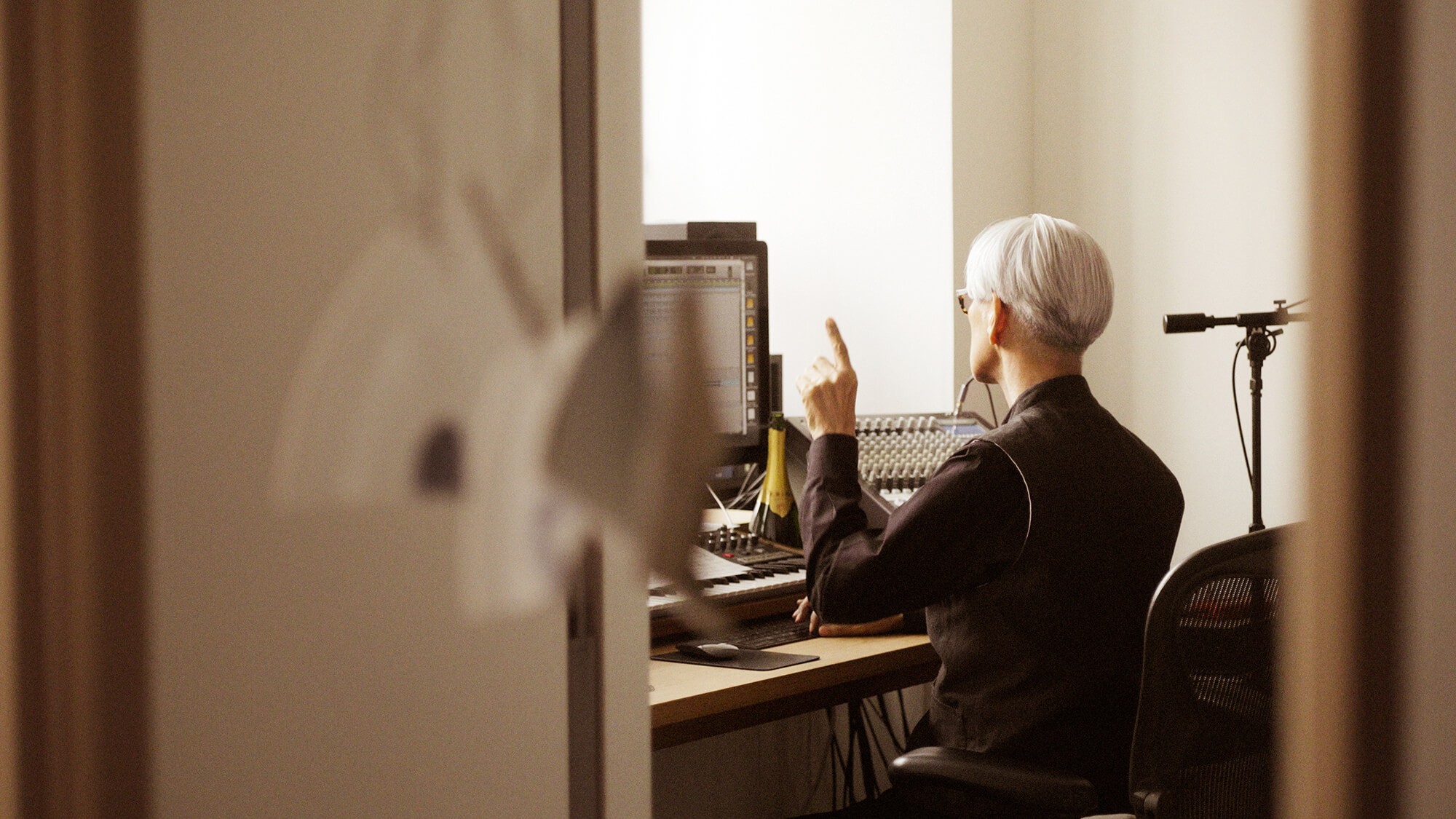 Seeing sound is an idea that Sakamoto has been considering for many decades. 'I like the concept of making the impalpable tangible. It is well said that we are touched by music,' he says. 'I deeply believe in the sensory power of music, which provokes emotions in us. At Krug, it is the opposite: the champagne is palpable in your glass and also provokes emotions. I like the idea that Krug wants people to listen to its champagnes. I listened to Krug's Champagnes, and it led me to where I should land musically.'
During the creative process, Sakamoto's team travelled to Reims to record the music of Krug. 'With microphones, we captured the sounds of each step of creation and even the silence of the cellars. We wanted to understand how champagnes are created at Krug and see the parallels between this art and mine.'

Cellar master and composer working in harmony
Cavil's musical analogy and compositional vocabulary proved key to Sakamoto's understanding of the craft. Says the composer, 'Our jobs are radically different at first glance, but the more time passed, the more I saw that things were quite similar. Like Julie Cavil, who does not have a set recipe for Krug Champagnes, I don't have a particular method. Melody and precision are key, and each creation is a new challenge. I start with notes, and she works with wines. We have a common vision to create something unique that, once it is born, no longer belongs to us.'
Cavil conveyed to Sakamoto a desire to 'cultivate the differences in the vineyard', that Krug champagne creation is not about finding the best wines, but the largest aromatic palette to blend the most generous champagne. 'The philosophy resonated with me,' he says. 'You have to open your ears all the time because anything could happen unexpectedly. Anything can be music.' Nature provided another inspiration. 'In agricultural societies, monthly and annual cycles give birth to a [certain] construct of time, which begins in spring and ends in winter,' says Sakamoto. 'I consider this in the way I structure music, just as Julie does in making champagne. Nature is also a source of unique sounds that inspire my music.'
Initially, Sakamoto took a very methodical approach to this new challenge. 'I simply wanted to translate the flavours and aromas into music. But when I sat down to compose, I placed a bottle of Krug in my studio where it would catch my gaze, and its elegant shape and colour also inspired me. My inspiration was driven more and more... by sensation.'
As the project evolved, his technique unknowingly became even more similar to that of the Krug cellar master. 'Julie introduced me to the three champagnes starting with Krug Clos du Mesnil 2008, then Krug 2008, and finally Krug Grande Cuvée 164ème Édition, but I completed the third movement first, in order to approach the most complex, and work backward towards simplicity. I later discovered, once I shared my symphony and creative process with Krug, that Julie also always starts with Krug Grande Cuvée when she composes her champagnes, so we shared the same order of the creative process.'



A symphony in three movements
Sakamoto describes his symphony through the lens of champagne, expressing flavour, aroma, sound and emotion to further blur the lines between the senses:

'The first movement is a solo, echoing the purity of Krug Clos du Mesnil 2008. A single-grape variety; a single year; a single parcel; a soloist. I strongly believe less is more. I was inspired by the champagne's minimalist aspect, excellence pushed to its extreme with great precision. A piano solo was an obvious choice.
'The second movement brings a small ensemble together performing the music of the year 2008: not too disruptive to break the rules, not revolutionary, but enough to be in the annals of history. For this balanced and elegant champagne, I chose an ensemble of violins, cellos, and other stringed instruments but also added woodwinds for depth.
'In the last of the three movements, I wanted to express the generosity of Krug Grande Cuvée 164ème Edition, performed by a full symphonic orchestra. To translate the raison d'être of Krug, I was on a quest for harmony, intensity, and generosity from multiple sounds, both instrumental and electronic.'